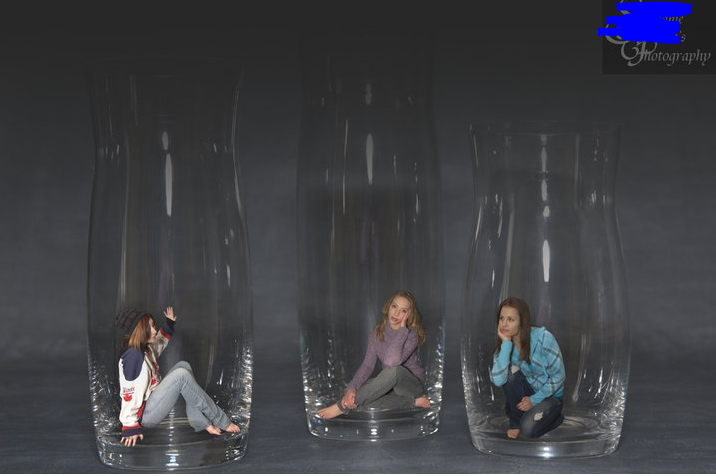 Originally Appears in Issue 8
In each issue
Declan Aylward
dives head first into the weird and wonderful world of the web, and reports back with his findings.
You Are Not A Photographer
http://youarenotaphotographer.com
We all know that girl. She's arty, or at least has a lot of the trendiest art books scattered conspicuously about her apartment. She has a digital SLR camera with an impressively large lens that she uses for absolutely every photograph she takes of her boyfriend's band and she loves dropping the name Cartier Bresson into any conversation she can.
Ginger and Mary Anne, the founders of You Are Not a Photographer hate her too, and the photos she takes. These days it's very easy for one of these fauxtographers to start a Facebook page, throw up a couple of samples and start selling themselves as a 'professional' photographer to hapless idiots who don't know any better. The girls at You Are Not a Photographer delight it cherry picking the worst of these sample images and presenting them on their site complete with enough scathing criticism to make a drill sergeant run wailing home to his mum. From awful attempts at spot colouring to crappy composition and some outrightly disturbing subject matter, the fauxtogs presented on this site form a great gallery of what not to do, while making us feel that bit better about the photos we take ourselves. Unless looking at these photos makes you realise you are one of course. Check your closet, are there a lot of stripey vintage jumpers in there? We thought so.
The Young Turks
http://www.theyoungturks.com
If you follow American politics at all or, more importantly, if you can't stand the American Republican party and the bigoted, overly conservative religious nutjobs that tend to speak for it, then The Young Turks is the news site you need to be watching. Starting out as just one show, The Young Turks site and Youtube channel now hosts a number of different shows covering politics, pop culture and other things it's fun to get angry about. In a political system like the one in the States, you have to pick a side, so don't expect much political neutrality here. But if you're looking for left-friendly commentary that goes into a little more depth than John Stewart's satirical sideswipes, then you've come to the right place. Besides, the Republicans have had their own propaganda machine for a while now with Fox News and Bill O'Reilly spitting vitriol and lies at the public, it's about time that the lefty youth fought back. The relatively recent 2011 Webby awards honoured the site with a People's Voice award for Best News and Politics Series, so all the righteous indignation has started to pay off it seems. And now they've been mentioned in
One More Robot
, these guys are definitely moving up in the world.
The Legend of Neil
http://www.effinfunny.com/legend-of-neil
Sandeep Parikh is a funny guy. Regular readers might know him as the guy who plays Zaboo in Felicia Day's excellent webseries, The Guild, but he always been, first and foremost, a maker of movies rather than an actor in them. He is also the creator of Effinfunny.com, a site that hosts a serious amount of great standup and original web series. The Legend of Neil is Parikh's creation and shows that his own brand of humour is slightly darker, but just as funny as the work safe antics of The Guild.
The show focuses on Neil, a New Jersey nobody who gets sucked into The Legend of Zelda while drunkenly engaging in autoerotic asphyxiation using the Nintendo game controller cord. From this family friendly start, Neil battles his way through the familiar levels of the classic game towards a confrontation with the evil overlord Gannon, with only the help of an irritating Old Man (or is that Oold Man?) and a sex crazed fairy who seem determined to make his journey that much more difficult and annoying.
The budget may not be the biggest, but these guys know how to stretch it and, hey, their effects are still a good deal better than the graphics in the original game. It's the comedy that drives the series anyway and, from Parikh's weirdly catchy opening music that doubles as a 'Previously on..' to Eric Acosta's genius portrayal of the evil henchman Wizrobe, The Legend of Neil has comedy spewing from its nose like milk from an overexcited fat kid at lunch.